Peter's work is now available at Day Fine Art Gallery in the Blue Mountains.
Day Fine Art is Vincent and Helen Day. They are young dealers with an interest in Old Master Drawings and Prints and Australian art works  Their stock includes a wide selection by artists such as Arthur Streeton, Hans heysen, Norman Lindsay, Lionel Lindsay and many more. They aim to present rare works that are aesthetically appealing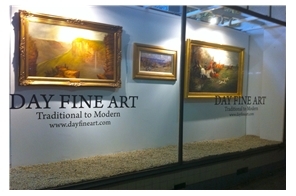 and also offer an interesting historical significance. Vince is the brother of Sydney Art Dealer Christopher Day.
Day Fine Art Gallery is situated at 29 Govett's Leap Road, Blackheath NSW
Opening hours:
Friday: 10am-5pm
Saturday: 10am-5pm
Sunday: 10am-5pm
Monday: 10am-5pm
Or visit their website: www.dayfineart.com