Kinross Wolaroi School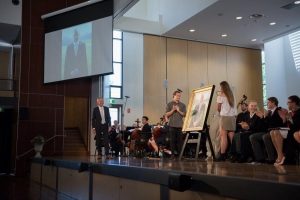 said farewell to its students for another year at the 130th Annual Speech Day. The day was also the last for outgoing Principal, Brian Kennelly.
Mr Brian Kennelly was the Guest of Honour, providing an inspirational address about his three important life lessons and take-home messages. He reflected on his ten years at KWS and thanked all those who have supported him along his journey. Following his very moving speech was the unveiling by two of his children of a portrait of Mr Kennelly by artist Peter H. Marshall which will be hung in the foyer of the Derek Pigot Auditorium.