TREE + TIME = CHANGE   solo exhibition 7 – 22 october 2017
Peter's favoured compositional theme of trees occupying the immediate and middle distance is now emphisised to the extreme in this new body of work. The tree is observed up very close, so that the observer can see only the lower sections of the trunk and its great bulk filling the visual field and dominating the compositions.
In this near claustrophobic viewpoint the unique intricacies of design in surface pattern and curled bark shapes become a documentation of ephemoral change, reminding us the tree is a living thing that is growing, changing and altering in its appearance constantly over time. These however, are not fleeting glimpses expressed quickly such as impressionism would require but a sustained observation of the subject as it appeared in that 'segment of time'.
The artists intention was to observe the way shadows, light, weather conditions and the time of day or year interact with the bark and trunk of the same tree over a period of three years. Each work in the series was developed by noting all the variations of change, small or large, which had occurred since the last visit to the motif and how much visual impact these changes had.
DAY GALLERY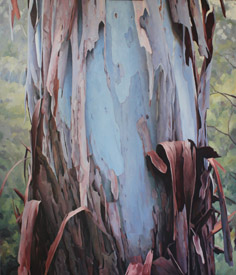 www.dayfineart.com