Tree+Time=Change
Opens October 7 @ Day Fine Art – Blackheath NSW
Peter's favoured compositional theme of trees occupying the immediate and middle distance is now emphisised to the extreme in this new body of work. The tree is observed up very close, so that the observer can see only the lower sections of the trunk and its great bulk filling the visual field and dominating the compositions.
In this near claustrophobic viewpoint the unique intricacies of design in surface pattern and curled bark shapes become a documentation of ephemoral change, reminding us the tree is a living thing that is growing, changing and altering in its appearance constantly over time.
Gallery Address:
27-29 Govett's Leap Road
Blackheath, NSW. 2785.
Gallery Opening Hours:
Friday: 10am – 5pm
Saturday: 10am – 5pm
Sunday: 10am – 5pm
Monday: 10am – 5pm
Or by appointment
Vincent Day: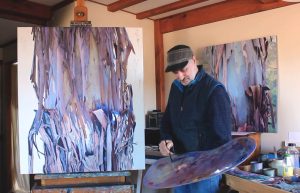 (int'l)+61 404 930 120
(Aus) 0404 930 120
Helen Day:
(int'l)+61 424 842 294
(Aus) 0424 842 294
E mail:
info@dayfineart.com